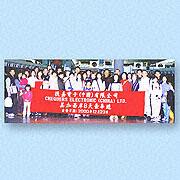 Staff and their family members are ready to take off!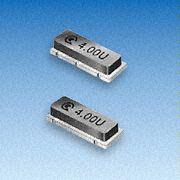 SMD ceramic resonator (2-pin & 3-pin)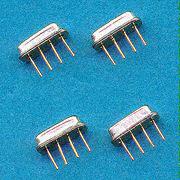 A new line of product - SAW resonator
Company-Organized Pleasure Tour for Year 2000
On 23rd of December 2000, more than 30 staff and their family members went on the annual company-organized 9-day pleasure tour. This time, United States and Canada were picked as instead of Europe. Mr. Yu, managing director of the company, staff and their family members have visited many tourist attractions including the Grand Canyon, Las Vegas and Disneyland Park.
Mr. Yu hoped to take this opportunity to reward the great performance of all staff in the past year, and as a means to "recharge" their minds and bodies so that they will perform even better in the year of 2001.
SMD Ceramic Resonator (2-pin & 3-pin) is Now Available
Cheap and reliable real SMD (surface-mount) ceramic resonator is now available. Combining years of experience in manufacturing lead-type ceramic resonator, the electrical characteristics of our SMD ceramic resonator are exceptionally stable. We also can provide SMD ceramic resonator products that meet different temperature requirements. For more details, please contact our sales representatives.
A New Line of Product Added to Our Product Family
Surface Acoustic Wave or SAW components are now available. We can provide with SAW resonator (1-port or 2-port) and SAW filter. A stable supply is ensured. Our SAW components are fully compatible with the America-branded and Japanese-branded counterparts.
Frequency ranges that are available for SAW resonator : 245MHz to 433.920MHz(1-port) and 330MHz to 433.920MHz(2-port). For SAW filter, the range is from 139MHz to 930MHz. For the casing of our SAW components, TO-39(for 1-port and 2-port resonators only) and F11(for all SAW components) are available.
Supplier and product information updated February 15, 2017.